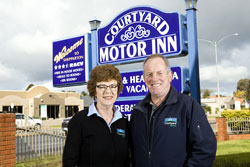 58/60 Wyndham Street
Shepparton VIC 3630 [map]
Tel: 03 5831 2355
Fax: 03 5831 2748
Reception Hours:
Mon - Fri: 7AM - 9PM
Sat: 8AM - 9PM
Sun: 8AM- 8PM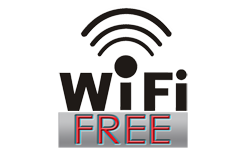 Convenient Location

Frequently Asked Questions
Q: What is the earliest I can Check-in?
A: Standard check-in time is 2pm. We can usually arrange early check-in depending on room demand the day before. Please contact us with your requirements & we will try to help.
Q: Can I arrive late?
A: Yes, but you must contact us if you're wanting to arrive after 9pm (or 7pm on Sundays).
Q: Are your rooms non-smoking?
A: Yes, all rooms at the Courtyard Motor Inn are non-smoking.
Q: Do you have a restaurant?
A: No but we serve delicious breakfasts to your room & there are plenty of dining options within walking distance of the Courtyard. Ask at reception, we are happy to advise based on your preferences. We offer charge back facilities at nearby restaurants, clubs & pubs (charged to your room account at cost, nil commission charged).
Q: Do you have WIFI in guest rooms?
A: Yes, and the best part is that it's free.
Q: Do you have an outdoor entertainment area?
A: Yes, we have a BBQ area adjoining the pool/spa area & a small children's playground area.
Q: How close are you to the shops?
A: We are 2 blocks from the Shepparton CBD.
Q: Do you have Foxtel?
A: No, but we have a free 4 channel current release movie service running on a fixed timetable.
Q: What is your Cancellation Policy?
A: Cancellations must be made at least 48 hours prior to check in date. Cancellations received less than 48 hours, the full amount for the first cancelled night will be charged.
Q: How do I guarantee by booking?
A: Valid Credit card details are required to secure room booking or a $200 cash bond.
Q: If something goes wrong outside office hours can I get help?
A: Yes, owner / operators Kerry & Brendan live on the premises & are available anytime in an emergency.